Community Relations
Yule Rules! Annual Anthology Fundraising Event Takes In $8,800 for Hawaii Nonprofit EPIC Ohana
Feb 2, 2017
A mouthwatering smoked prime rib roast and enough toothsome Irish beef stew to feed at least a quarter of the population of County Kilkenny, made-to-order courtesy of Anthology's own David Koch and Mary Fastenau*, respectively.
Enough HawaiianMiles points for three round trip flights between Honolulu and New York.
Dining-out gift certificates spanning a range of menus from Murphy's Bar & Grill, Little Village Noodle House, and Moon & Turtle, to Mr. Ojisan, Top of Waikiki and Big City Diner.
Plus, mini succulent gardens, gas and grocery cards, made-in-Hawaii product gift baskets, a Koaloha ukulele, a honey-glazed ham, assorted jewelry and fashion, wines and whiskeys, a surfboard and much, much more.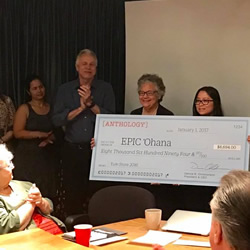 All of the above was donated and bid on to a total fundraising tune of $8,800 at Anthology Marketing Group's 2016 Yule Store, held December 9 in the [A] Team Theatre. The recipient of every dollar raised at the annual holiday season silent auction? EPIC Ohana, which offers services and assistance to at-risk families, children and youth in Hawaii. Anthology's staff ohana selected the Oahu-based nonprofit this past fall as sole beneficiaries of the agency's 2016 Yule Store.
A check for the total fundraising amount was presented to EPIC Ohana in January at Anthology's monthly staff meeting.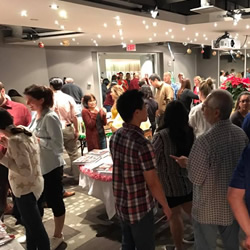 Epic Ohana's mission is helping at-risk youth who have aged out of Hawaii's foster care system, and assisting families and children statewide. Since its founding, the 501(c)(3) nonprofit organization has developed programs offering support for youth in foster care, significantly improved outcomes for youth it assists, and helped them obtain medical support, financial literacy, job training and higher education. Epic Ohana has also helped foster care youth build positive family and social relationships, as well as encouraged them to become successful young adults in the community. Fittingly, the organization's name is an acronym for Effective Planning and Innovative Communication.
For more than a half-century, the Yule Store has been an annual tradition of the root companies of Anthology Marketing Group for giving back to the community. Each November, the nomination and final selection of the year's designated Yule Store beneficiary is opened up to Anthology staff. Once a beneficiary is selected, planning goes into full swing for the silent-auction fundraiser, with Anthology staff, clients, vendors and media partners donating hundreds of items to the store.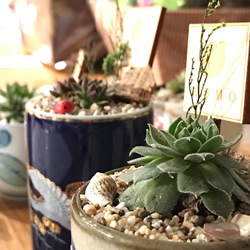 Food, fun and a frenzy of bidding fills the Yule Store's four hours of lunchtime business. Winning bidders rush home (or back to their offices and cubicles, anyway) with their treasures after bidding closes. And all monies raised are given to the Yule Store's annual beneficiary to continue the essential work they do in our community.
In recent years, Anthology's Yule Store has raised upwards of $10,000 annually. Nonprofit beneficiaries have included Project Hawaii, Hawaii Foodbank, Make-A-Wish Foundation, Meals on Wheels, Hawaii Children's Cancer Foundation, Project Date and dozens of others.
Interested in donating items for Anthology's 2017 Yule Store event?
No worry beef curry**, it's never too early or too late to donate. *** Contact Mei Jeanne Wagner, Anthology's own chief of all things Yule Store, at meijeanne.wagner@anthologygroup.com to donate – we'll take donated gifts, food items, services, gift cards, dining-out and outdoor experiences, hotel accommodations, travel opportunities and more. Monetary donations may be made online at youcaring.com/YuleStore.
* Ably assisting husband and Irish beef stew chef supreme John Flanagan.
** We really wanted to use Irish beef stew here instead of beef curry, but it didn't rhyme as well with "worry."
*** Yay us! This sentence ends up rhyming twice.