Announcements
Jack Seigle. One of Hawai'i's Original Advertising Mad Men.
Sep 10, 2020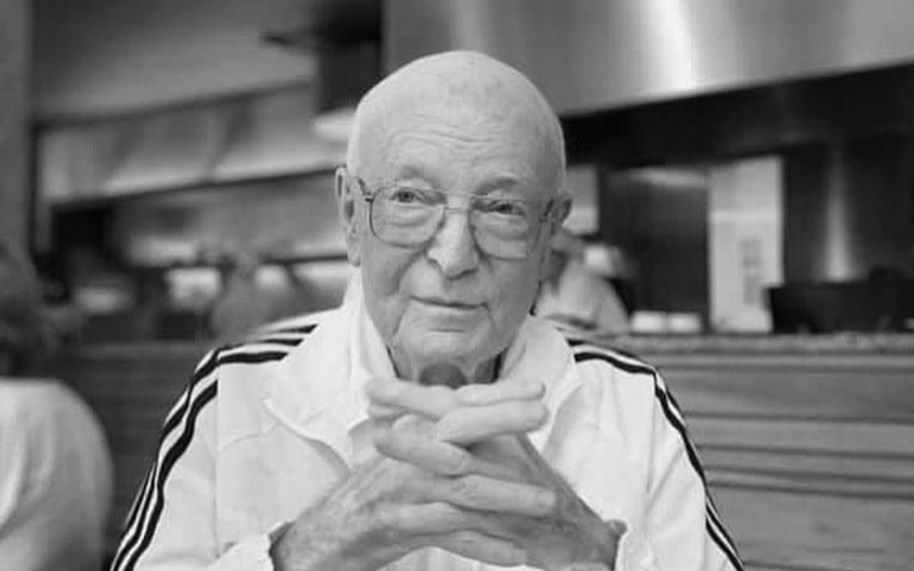 Photo courtesy of the Seigle family
Jack Seigle had many titles.
In political circles he was known as a kingmaker, famous for helping four of Hawai'i's governors get elected – from John Burns' second term in the office riding the crest of Jack's celebrated "Catch a Wave" campaign, to Ben Cayetano's come-from-behind victories. Over the years, Jack worked on more than 100 Hawai'i political campaigns, proudly carrying the Democratic Party flag in every one of them.
"He never lost a campaign and his success made Starr Seigle McCombs the best in Hawai'i," said Cayetano. "Jack had a big heart, he was honest (and) a great human being. We became good friends. He ran four campaigns for me – and won every one of them. Even after he moved to Colombia, we kept in touch by email.
"When I came out of a 10-year retirement to run for (Honolulu) mayor in 2016, he emailed me some advice: 'Don't say anything about Dan (Inouye),' he warned. I did not heed his warning, criticized Inouye and lost my only election! Jack lived a long and good life. Rest in peace, Jack."
Jack also provided what John Waihe'e fondly remembers as "calm guidance" during his campaign for governor in 1986.
"When most pundits were predicting our loss, he was among a small group of people who believed that we would prevail," recalled Waihe'e, of his first of two successful campaigns for governor of Hawai'i.
"I can say, without a doubt, that I would not have been able to accomplish as much as I was able to do in my life without his support and friendship."


-Gov. John Waihe'e
"When we last spoke, he told me that although he missed Hawai'i, he was extremely happy living with his family in Colombia. We should all be so fortunate to be so well-remembered in life."
Jack was a Hawai'i advertising legend, as well. He arrived in the Islands in 1962 to take over the local offices of national agency Lennen & Newell and in three years on the job, he tripled its accounts. He next formed Seigle Rolfs & Wood, which became Starr Seigle McCombs and ultimately Starr Seigle Communications through the mergers and acquisitions that are so common in the advertising industry. Jack officially retired in 1999, but his influence on the industry continued. His legacy took on a new identity in 2007 when Starr Seigle Communications merged with McNeil Wilson Communications and Laird Christianson Advertising to form Anthology Group.
"I first worked with Jack when I moved to Hawai'i in 1973, mostly on issue management and political polling. I provided polling research for every candidate he represented from that point on," remembered Anthology Research Senior Advisor Barbara Ankersmit. "I consider that time golden. And his leadership set the entire focus of my professional life – work hard, care about your clients and produce results.
"In 1995, when I decided to leave the firm where I was a partner, I made a courtesy visit to Jack on my last day at that company. Fifteen minutes into our visit, he said, 'If you trust me, I will trust you. Let's make you a company here at Starr Seigle. Come to work tomorrow at 8:30 a.m.' I did. And it was the best decision of my life!"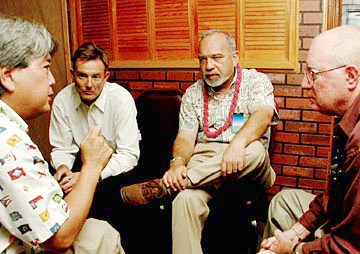 Talking over Year 2000 plans, above, are Hawaii Millennium Commission members Isaac Hokama, David Wilson, former Gov. John Waihe'e and Jack Seigle, from left. Credit: Craig T. Kojima, Star-Bulletin archives, Sept. 15, 1999
For those of us who were fortunate enough to know him, Jack was a mentor, leader and friend. He shaped the careers of countless Hawaii public relations, research and advertising professionals by trusting in their judgement, allowing and encouraging them to take risks, and making sure they always got all of the details right.
"Starting an internet division in 1995 was a crazy idea, but he gave me and a group of devoted digital pioneers the chance to explore the then-new marketing frontier," says Anthology Group Partner Mary Fastenau. "He was always there to listen and provide sage advice. He gave me my first job in Hawai'i, let me follow my entrepreneurial dreams and taught me many lessons about leadership. Jack was a mentor and a friend."
Added Ankersmit, "Jack was a true leader and mentor to so many of us. He was never too busy to listen and always supportive of any idea you had. So, thank you, Jack. You will be missed, but always in my thoughts."
Jack Seigle passed away peacefully in Colombia on September 8, 2020. He is survived by his wife Claudia; their children Mateo, Leilani and Jero; sisters Jeanette and Sue; and his sons, Mark, Mike and Peter.
It was Mark who let us know that Jack died a happy man at the age of 87. Anthology celebrates Jack Seigle's legacy and mourns the loss of a truly remarkable man.