Community Relations
Anthology Yule Store Fundraiser Raises $12,050 for RYSE Hawaii
Feb 10, 2020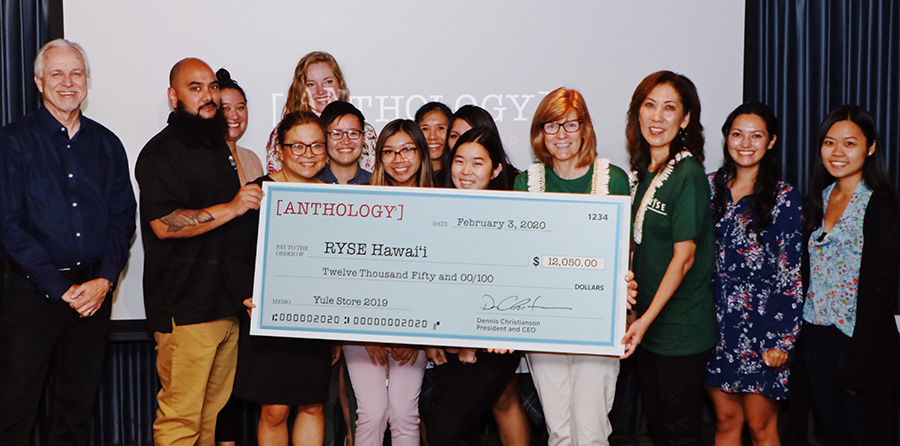 For more than a half-century, the Yule Store has been an annual tradition of the founding companies of Anthology and a way for our team to give back to the community. Each fall, the nomination and final selection of the year's designated Yule Store beneficiary is opened up to Anthology staff. Once a beneficiary is selected, planning goes into full swing for the silent-auction fundraiser, held in December, with staff, clients, vendors and media partners donating hundreds of items to the store.
For 2019, the [A] Team selected Oahu-based nonprofit Residential Youth Services and Empowerment (RYSE) as its beneficiary and presented them a check for $12,050 at our First Monday meeting on February 3.
Every dollar raised was given to RYSE, a 501(c)(3) organization which operates a 24/7 access center as part of the Kawailoa Youth and Family Wellness Center in Kailua. There, disenfranchised youth are able to sleep safely at night under professional supervision. They also receive skilled medical attention, a kitchen to prepare meals, clean clothes, laundry facilities, hot showers, personal lockers, counseling, job training and employment assistance, GED education, and nurturing by qualified, professional staff. The access center's coordinated programs and services help build a path towards reintegration into mainstream society.
"Current shelter services for adults on Oahu do not provide the types of services required by those who fall into this age group," said Martha Balkin, RYSE Hawaii's board president. "Our services fill potential gaps in their development and focuses on breaking the cycle of homelessness in their lives so they can return to being productive members of our community."
According to the 2017 Point-In-Time count, 89 percent of unaccompanied youth on the streets of Oahu are within the 18-24 year-old age range and sleeping unsheltered.
"Supporting those who make Hawaii and our communities stronger are part of our core company values," said Dennis Christianson, Anthology CEO. "The positive impact RYSE's work is having on at-risk youth in our state is to be commended. We are proud to be able to support them in their efforts and thank them for their service."
To learn more about how RYSE is making an impact in our community, its recent RYSE Progress Report 2018-2019 is available online.
In recent years, Anthology's Yule Store has raised upwards of $12,000 annually. Nonprofit beneficiaries have included Family Promise of Hawaii, EPIC Ohana, Project Hawaii, Hawaii Foodbank, Make-A-Wish Foundation, Meals on Wheels, Hawaii Children's Cancer Foundation and dozens of others.