Research
Anthology's own Barbara Ankersmit wins AMA Hawaii Lifetime Achievement Award
Apr 8, 2016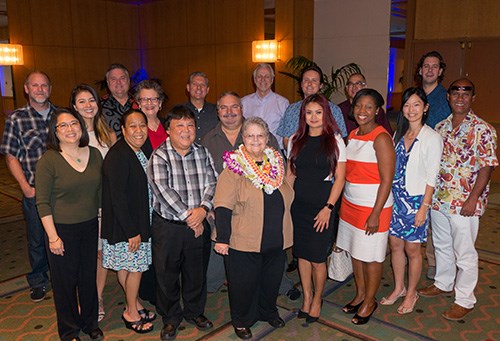 If Anthology Marketing Group conducted a hush-hush internal staff poll with the single question – "Who amongst our team do you think is most deserving of winning an AMA Hawaii Lifetime Achievement Award?" – chances are likely Barbara Ankersmit would win in a landslide.
We could never conduct such a poll, of course. Not in secret, anyway. Mostly because we'd have to ask Barbara to take charge of it with her Anthology Research team if we wanted it done right. And then she'd sort-of know what we were up to.
So we're very pleased that her peers in the Hawaii chapter of the American Marketing Association this year saw fit to bestow upon Barbara its highest honor of a Lifetime Achievement Award at its 39th annual Marketer of the Year Awards luncheon. We'll admit to being a bit biased here, but, yeah, she totally deserves the honor.
The founder and president of Anthology Marketing Group's Research arm (formerly known as QMark) and an agency partner, Barbara has long been a go-to Hawaii authority for private business, politicians and organizations involved in high-profile public issues on the subject of gathering of market research.  She is also an invaluable member of the Anthology ohana.  You can read Barbara's official agency bio here for a rundown of her lengthy career achievements. To wit, they include: 
Establishing Hawaii's first calling center devoted to research and focus group facilities.
Conducting public opinion polls on countless Hawaii issues of importance, including same-gender marriage, death with dignity, women's choice, land use and medicinal marijuana.
Being honored by the American Advertising Federation as its 2014 Advertising Woman of the Year.
Serving as president of the American Civil Liberties Union of Hawaii for the past seven years.
All great achievements, of course. But we'll exit this post with one of our favorite descriptions of Barbara's character and deservingness of AMA Hawaii's career Lifetime Achievement Award, written by a colleague for Barbara's award nomination letter.
"Courage is in rare order in today's business world. Barbara delves deep under the surface of public opinion to discover the truth then has the courage to tell a client not what they want to hear, but the truth they need to hear. Her candor in the service of scores of Hawaii's best marketers is unquestioned."
Agreed.
Congratulations, Barbara, on your much-deserved award!