Community Relations
Aug 13, 2016
Caffeinated, energized and fueled by fresh fruits, the Anthology team woke up early on a Saturday for the American Heart Association's 2016 Oahu Heart Walk, held on August 13.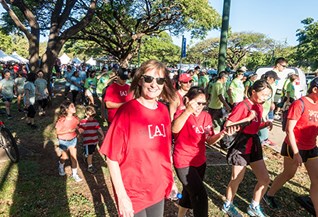 We like things that come in dozens.
Armed with a mission of building healthier lives, the American Heart Association (AHA) is dedicated to the fight against heart disease, stroke and other cardiovascular diseases. The organization's annual Heart Walk event, held in cities across the country, raises public awareness of heart disease and encourages its participants to make simple lifestyle changes that can have a big impact on their overall health. The Oahu event included a leisurely 1-mile route circling Kapiolani Park and a heart-pumping 4.5-mile route circling Leahi (aka Diamond Head).
The Anthology team arrived at the Heart Walk in force with 38 participants, including family and friends. Led by Digital Group President Mary Fastenau, the team raised $3,766 for AHA, ranking 16th in fundraising out of 69 Heart Walk teams. The event ended up raising a record-setting $562,480 for AHA.
Mahalo to all who generously donated their time and monetary contributions to the cause!
For more information on the American Heart Association Oahu Heart Walk, visit www.oahuheartwalk.org.