Public Relations
Anthology PR Group Assists in Successful Hawaii Night Promotion and Partnership with Hawaii Tourism Authority and L.A. Clippers
Jan 19, 2017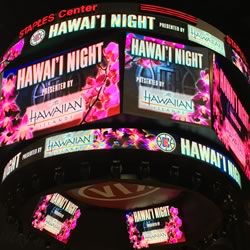 We're calling it a night of Hawaii-style hoop dreams.
More than 10,000 L.A. Clippers fans sporting fresh flower lei or team caps emblazoned with the word "Aloha." Clippers center DeAndre Jordan flashing the "shaka" sign for assembled media during team practice. A surfboard won by one very fortunate soon-to-be-wave-carving fan. Musician Willie K taking over halftime with a sweet selection of Hawaiian music accompanied by hula dancers. Oh, and in the midst of it all, an NBA regular season match-up between the Clippers and the Memphis Grizzlies.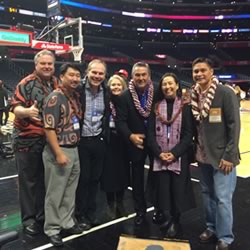 With support from Anthology's Public Relations Group, the Hawaii Tourism Authority teamed with the NBA's L.A. Clippers on January 4 to host Hawaii Night, an evening of basketball and sharing of Hawaiian culture, music and the aloha spirit. The sold-out game at the Staples Center in Los Angeles marked the first of several Hawaii-centric Clippers home game nights set for the 2016-17 season, all leading up to a pre-season training camp for the team this fall here on Oahu.
PR Group President Nathan Kam, Senior Vice President Patrick Dugan and other team members worked with HTA President and CEO George Szigeti and his team to execute the Hawaii Night promotion, which publically launched the HTA-Clippers partnership. Hawaii Night kicked off pre-game outside the Staples Center with fan-welcoming hula and Hawaiian music from Kekaiulu Hula Studio and Hāloa Band. The California-based hula studio, comprised of students ranging from keiki to kupuna age, also performed at the end of the game's first quarter and at halftime.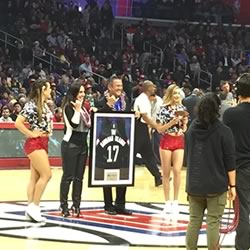 Fans on hand jockeyed behind the baseline of the arena's court to get foam shaka hands handed out by the Clippers' Hoop Troop, and queued up at select concession stands for Hawaii-inspired food items. Los Angelino Walter Cabaya took home a surfboard courtesy of Downing Hawaii after winning HTA's "Shoot or Pass" contest during a first-quarter timeout. Pleasant Holidays launched a season-long series of trip giveaways offering fans an opportunity to join the Clippers on Oahu in the fall, or win trips to Maui, Kauai and the island of Hawaii. And, since it bears another mention, there was Willie K live at halftime.
The Hawaii Night basketball matchup was also televised regionally in California, lending the Islands some valuable face time with viewers tuning in.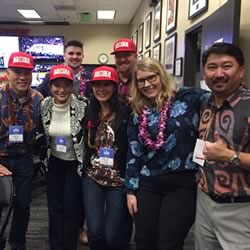 Launched December 4, HTA's marketing partnership with the L.A. Clippers to showcase Hawaii will run the length of the team's 2016-17 regular season, combining broadcast and online exposure with in-game promotions at the Staples Center. The Clippers will travel to Honolulu this fall to hold the team's 2017 training camp, including two pre-season NBA games and a fan fest.
One more thing: In case you're wondering, the Clippers took down the Memphis Grizzlies on Hawaii Night, 115 to 106.
Booyah!