Community Relations
Anthology Marketing Group selected to be inducted into JA Hawaii's Business Hall of Fame
Nov 6, 2017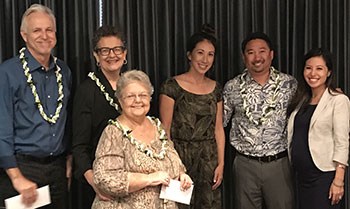 Always a pleasure to have special guests stop by the office bearing good news. This morning, Junior Achievement of Hawaii President Janel Denny (center) and Board Member Emi Au (far right) made a surprise presentation congratulating Anthology Marketing Group for being selected as one of three Laureates to be inducted into JA Hawaii's Business Hall of Fame next March 2018.
This is the first year a company is being inducted into the Business Hall of Fame. Anthology partners Dennis Christianson, Barbara Ankersmit, Mary Fastenau and Nathan Kam accepted the honor on behalf of the company's 100 employees.
Anthology will be honored along with Constance Lau, CEO of Hawaiian Electric Industries, Inc., and Sig Zane and Nalani Kanakaole of Sig Zane Designs at the special event taking place on March 2, 2018 at the Sheraton Waikiki.
Since starting in 1990, JA's Business Hall of Fame has been recognizing business leaders who, through their life-long entrepreneurial and civic activities, have made enduring contributions to the products, the processes, the efficiencies or the human relations of business and the community, and who may be presented as figures of inspiration of Hawaii's youth.
Anthology, celebrating its 10th anniversary this year, was nominated and selected based on demonstrating entrepreneurial spirit and management skills, accomplishments resulting in economic and social benefits, service to the community, being a role model to Hawaii's youth and possessing a high level of respect within Hawaii's business community.
Junior Achievement of Hawaii was founded in 1957 to educate and inspire young people to value free enterprise, business, and economics to improve the quality of their lives. It provides programs all over Hawaii and has operations on Oahu and the Island of Hawaii. Its mission is to ensure all Hawaii's youth learn about financial literacy, work readiness, and entrepreneurship.
For more about Junior Achievement of Hawaii, visit www.jahawaii.org.