Announcements
Anthology Marketing Group Celebrates its 10th Anniversary with an Evening of Food, Wine and Memories
Jun 9, 2017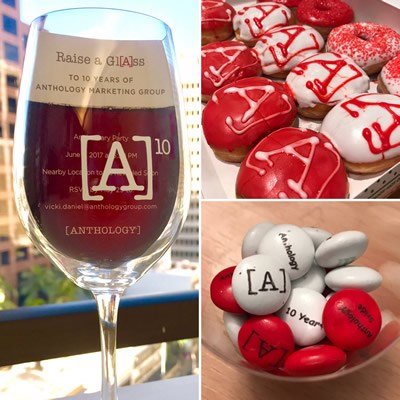 In A.D. 2007, Apple Inc. CEO Steve Jobs put makers of flip phones and Blackberrys on notice that the days of their products' reigns were numbered with the release of the tech company's first iPhone. Senator Barack Hussein Obama II of Illinois (and, in his formative years, Hawaii) declared his candidacy for U.S. President. The brand-new Hawaii Superferry docked in Honolulu following a 7,600-mile journey from its construction facility in Mobile, Alabama. Amazon CEO Jeff Bezos was ranked No. 188 on Forbes' World's Billionaires list with a miniscule $4.4 billion net worth. The top movie, TV show, album and single of the year were Pirates of the Caribbean: At World's End, American Idol, Daughtry by Daughtry and Irreplaceable by Beyonce, respectively.
And in early June of that same year on Bishop Street in downtown Honolulu, Anthology Marketing Group was created with the merging of three of Hawaii's most-respected communications companies: McNeil Wilson Communications, Laird Christianson Advertising and Starr Seigle Communications into one supremely sublime company.
All in all, a pretty good year.
On the evening of June 8, Anthology's 100-plus employee 'ohana celebrated the momentous occasion of our company's 10th anniversary in the best way we collectively knew how: a food-, wine- and memory-packed blowout and get together at Vino restaurant. The big night rounded out a full week of in-office reveling that included daily desktop-placed Anthology swag for staff ([A]-logo frosted doughnuts, [A]-team T-shirts, tote bags and drink tumblers, etc.), and even [A]-stamped M&Ms.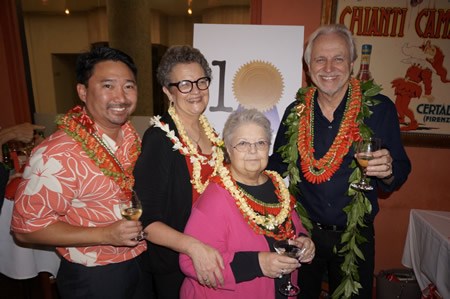 Leading the festivities at Vino were Anthology Marketing Group partners Dennis Christianson, Mary Fastenau, Barbara Ankersmit and Nathan Kam, all of whom were present at the company's merger, dedication and blessing ceremony in then newly-christened Anthology Theatre 10 years ago.
"In these 10 years, all of you and all of your co-contributors have given so much. It humbles me. It astounds me," said Anthology President and CEO Dennis Christianson, speaking to staff 'ohana at the 10th anniversary party. "It's all part of a continuum. Somebody who contributed 35 or 40 years ago is as much a part of our family and a part of our DNA as someone who joined us just a couple of weeks ago. … I thank you all. The partners thank you all. And I hope each of you thanks each other."
The goal of the 2007 merger that created Anthology was establishing a multidisciplinary communications practice leveraging the expertise of its best-in-practice specialists in advertising and branding, public relations, digital and research for the greatest client benefit.
The then brand-new company selected Anthology as its name inspired by the multiple meanings of the word: "a collection of stories, compositions or other creative works by the same author or authors; a body of creative activity organized around a central theme; and an assembly of related ideas." 
In the 10 years since its founding, Honolulu-based Anthology has grown into Hawaii's largest and most comprehensive integrated marketing and communications company, with a research office on Guam; a satellite office in Seattle, Washington; and four practices: Advertising and Branding, Public Relations, Digital and Research. Even so, our heritage – which continues to define us even as our company grows and expands its services – remains rooted in the motivation to serve the needs of our clients in the best way possible first established by our founding companies over the more than 40 years preceding Anthology's formation.  
Gazing out at the Anthology 'ohana gathered at Vino, Dennis suggested everyone gathered savor both the moment and the company they had a hand in creating, growing and establishing its camaraderie and culture.
"This is rare. Not all companies are like this. This is special. Don't forget this," he asked. "You won't always have this at every place you go and every place you work. And if you don't look around, and don't make eye contact with everybody in this room, you've missed something. So do it, OK?"
After a few more words, Dennis finished with a heartfelt mahalo to everyone.
"This company is my life's work. And I thank you for being part of it."
And then it was time for more celebrating of a decade, which everyone was more than happy to do.