Community Relations
Feb 5, 2016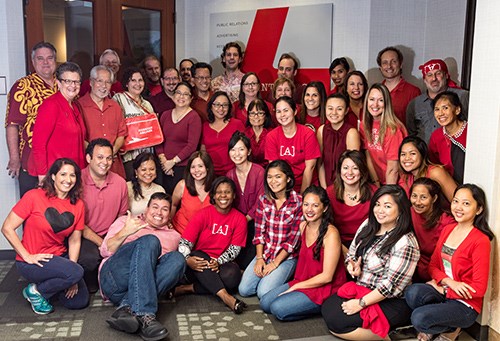 The Anthology team joined people across the country for National Wear Red Day on Feb. 5 to draw attention to education and healthy lifestyle changes that can prevent heart disease and stroke among women.
Anthology has been a long-time supporter of the American Heart Association, which has made tremendous strides in the fight against cardiac disease in women. In the last 10 years, there has been significant progress on these issues, demonstrated by the fact that 300 fewer women die each day from heart disease and stroke.
When the call goes out to wear red, the troops respond with enthusiasm. Look closely and you'll see our CEO Dennis Christianson in the back row and a special guest appearance by a client prop, the great Hawaiian Airlines retro red bag modeled by our Creative Director. There were even more people wearing red who didn't make it for the photo.
Anthology has a reputation to uphold since the photo taken on Wear Red Day in 2015 was used in promotions done by the national American Heart Association. 
For more information on Wear Red Day, please go to https://www.goredforwomen.org/wear-red-day.