Community Relations
Anthology gives back to the community with its annual Yule Store fundraiser
Jan 7, 2016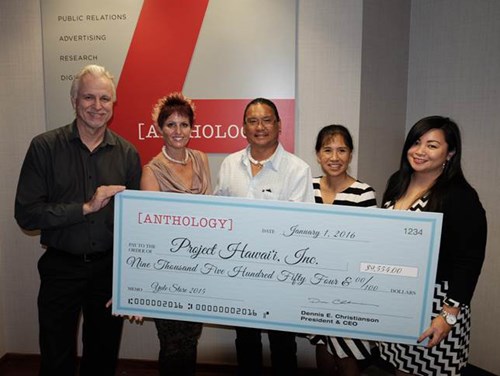 As the saying goes "It's better to give than to receive" and the holiday season traditionally brings out the best in companies and their employees across the globe.
Anthology is no exception.
For more than 50 years, our staff has been raising money for worthy causes through our Yule Store. Each year, employees nominate and then vote on the years beneficiary. Hundreds of items are donated by staff, clients, vendors and media partners for the silent auctioned with 100 percent of the proceeds going to the selected charity.
This year, Anthology raised more than $10,000 in cash and in-kind donations for Project Hawaii, a nonprofit organization whose mission is to enhance the lives of homeless keiki while helping them escape the cycle of poverty.
In years past, our Yule Store has helped other organizations fulfill their missions, including the Hawaii Foodbank, Make a Wish Foundation, Meals on Wheels, Hawaii Children's Cancer Foundation, Project Date and dozens of others.
To learn more about our annual Yule Store tradition and to hopefully inspire other organizations to give back to their communities during the holidays, check out Anthology partners Mary Fastenau (President, Digital Group) and Nathan Kam (President, Public Relations Group) on KHON's Living 808.
For more info on Project Hawaii, visit helpthehomelesskeiki.org