Announcements
Annual Anthology Yule Store Fundraiser Raises a Record $17,535 for Anti-Sex-Trafficking Nonprofit Organization Ho'ōla Nā Pua
May 19, 2021
The COVID-19 pandemic may have kept our Anthology Group staff 'ohana largely out of our downtown Honolulu offices and physically distanced from one another through much of 2020, but it was no match for our annual Yule Store, which moved entirely online and raised a record $17,535 for O'ahu-based nonprofit Ho'ōla Nā Pua.
Our team's determination to make sure the Yule Store happened at all despite a turbulent year in which we couldn't gather, invite others to gather with us, and hold the event in person had much to do with this year's record-breaking success. Simply put, the year and the pandemic fired us up even more to succeed.
For more than a half-century, Anthology Group's Yule Store has been a treasured annual company tradition and a mission for our staff 'ohana to give back to the Hawai'i community. The Yule Store was held virtually and entirely online for the first-time ever in 2020, finishing with more money raised for its designated beneficiary than any year preceding it.
Every dollar raised through bidding and purchases during Yule Store 2020 was given to Ho'ōla Nā Pua, a 501(c)(3) organization committed to ending sex trafficking in Hawai'i and providing comprehensive care for children who have been exploited. Ho'ōla Nā Pua ('ōlelo Hawai'i meaning "new life for our children") advocates for the innocence of Hawai'i's youth that is exploited in the horrific criminal enterprise of sex trafficking. Ho'ōla Nā Pua is dedicated to creating a community where children are safe and have the ability to embrace a bright future.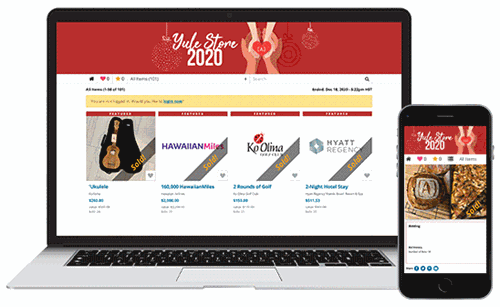 Ho'ōla Nā Pua's volunteers work relentlessly through integrated programming with the justice system, social services, politicians, faith-based communities, state licensing institutions, foundations, health-care professionals, key stakeholders and other national/international entities that share in its mission to see an end to the sex-trafficking pandemic forever.
Ho'ōla Nā Pua is also set to open The Bromley Family Pearl Haven Campus in April. Hawai'i's first long-term licensed residential treatment center, it will set a new global standard for comprehensive care for sexually exploited girls to find healing and rediscover hope for their future.
Anthology's staff 'ohana selected Ho'ōla Nā Pua last fall as the sole beneficiary of monies raised by the 2020 Yule Store. A check for $17,535.79 was presented to Jessica Munoz, president and founder of Ho'ōla Nā Pua, at Anthology's monthly staff meeting on April 1st.
"We are humbled and so grateful to Anthology for selecting Ho'ōla Nā Pua as the beneficiary of its 2020 Yule Store fundraiser. This generous financial gift will significantly and immediately assist us in our mission," said Ho'ōla Nā Pua Director of Advancement Mea Spady. "Through collaborative community donations like this, Ho'ōla Nā Pua is able to sustainably expand its programming reach and response to the issue of child sex trafficking and exploitation here in the Islands. True change requires all of us to take a stand on this issue together, and Anthology is leading by example in this gift."
The Anthology Group's root companies founded Yule Store as a way of giving back to the Hawai'i community. Each fall, the nomination and final selection of the year's designated Yule Store beneficiary is opened up to Anthology staff. Once a beneficiary is selected, planning goes into full swing for the silent-auction fundraiser, with Anthology staff, clients, vendors and media partners donating hundreds of items for the Yule Store then bidding on them on the event's big day. For 2020, bidding for Yule Store items was held online over five days, from December 14 through 18, rather than in-person at our traditional single-day gathering at Anthology's offices.
In recent years, Anthology's Yule Store has raised upwards of $12,000 annually. Nonprofit beneficiaries have included Residential Youth Services and Empowerment (RYSE), Family Promise Hawai'i, EPIC 'Ohana, Project Hawai'i, Hawai'i Foodbank, Make-A-Wish Foundation, Meals on Wheels, Hawai'i Children's Cancer Foundation and dozens of other community-serving organizations.
Mahalo to everyone who made Anthology's 2020 Yule Store a huge success in a hugely challenging year. And a big congratulations and mahalo from our entire Anthology staff 'ohana to everyone at Ho'ōla Nā Pua!
To learn more about Ho'ōla Nā Pua and the critical impact its mission and work has in our community, visit the nonprofit organization's website www.hoolanapua.org.