Community Relations
Annual Anthology Yule Store Fundraiser Earns a Record $12,500 for Family Promise Hawaii
Jan 10, 2018
Baskets full of Hawaiian Chip Company chips. Full-service auto care from Bo's Auto Detailing. $50 Hele gas cards. Multiple drinking- and dining-out gift certificates for Big City Diner, MW Restaurant, Bar 35, Brue Bar and more. Horseback rides, zoo memberships and rounds of golf. Designer clothing and jewelry. A Bose Bluetooth mini-speaker. 120,000 HawaiianMiles from Hawaiian Airlines. Not one, but two, prime ribs expertly smoked by retired Anthologian David Koch – thankfully not retired from his home smoker – and a pot of Bono- and Van Morrison-approved* Irish beef stew from active Anthologian Mary Fastenau and her husband John Flanagan.
Our staff ohana collected, donated and bid on everything above and much, much more at Anthology Marketing Group's 2017 Yule Store in December, raising $12,500 for Oahu-based nonprofit Family Promise of Hawaii.
The amount raised was an all-time record total for the annual Anthology fundraiser, with every dollar raised headed to Family Promise of Hawaii, a 501(c)(3) organization devoted to mobilizing existing community resources to aid families with children who are dealing with homelessness, and helping these families transition to sustainable independence. Anthology's staff ohana last fall selected Family Promise as sole beneficiaries of the 2017 Yule Store.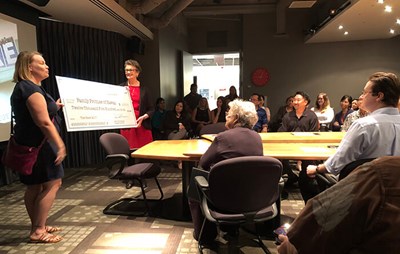 A check for $12,500 was presented to Samantha Church, executive director of Family Promise of Hawaii, at Anthology's monthly staff meeting on January 8.
"We're so incredibly honored," said Church, accepting the check and offering her mahalo on behalf of Family Promise of Hawaii. "I'm happy to say that last year, we were able to serve 63 families, helping them get off the streets and into housing. And with the opening of (long-term, affordable Honolulu community-housing project) Kahauiki Village next week, we'll have six families moving into housing there.
"It's a very exciting time. And this money will go really far in helping us get even more families into housing this year. Thank you so much!"
Since its 2006 founding, Family Promise of Hawaii has assisted hundreds of homeless families with much-needed programs and services helping them transition into affordable housing. The organization shelters up to 28 people – the equivalent of eight families – each week, seven days a week, 365 days a year. The nonprofit is innovative, offering families a safe space to stay by day at its two Family Centers, and partnering with local congregations, churches, synagogues, temples, mosques and community groups to provide safe places to sleep at night.
Family Promise of Hawaii opened its first Family Center in Kailua in 2006, followed by its second in Honolulu in 2007. Utilizing a unique business model, the organization is able to operate at one-third the cost of traditional homeless shelter programs because of its partnering efforts with existing community resources.
For more than a half-century, the Yule Store has been an annual tradition of the root companies of Anthology Marketing Group for giving back to the community. Each fall, the nomination and final selection of the year's designated Yule Store beneficiary is opened up to Anthology staff. Once a beneficiary is selected, planning goes into full swing for the silent-auction fundraiser, with Anthology staff, clients, vendors and media partners donating hundreds of items to the store.
Popping up in Anthology's [A] Team theatre for its annual four hours of business on December 15, Yule Store 2017 hauled out the holly and its usual batch of fun and frenzied bidding, fueled by snacks and drinks. When bidding closed, winners walked off with their treasures and the money raised totaled.
In recent years, Anthology's Yule Store has raised upwards of $10,000 annually. Nonprofit beneficiaries have included EPIC Ohana, Project Hawaii, Hawaii Foodbank, Make-A-Wish Foundation, Meals on Wheels, Hawaii Children's Cancer Foundation and dozens of others.
Interested in donating items for Anthology's 2018 Yule Store?
Christmas has come and gone but we're already getting ready for the next Yule Store. Contact Mei Jeanne Wagner, Anthology's master and commander of all things Yule Store, at mj.wagner@anthologygroup.com to donate – we'll take donated gifts, food items, services, gift cards, dining-out and outdoor experiences, hotel accommodations, travel opportunities and more. Monetary donations may be made online at youcaring.com/YuleStore.
Mahalo to everyone who made Yule Store 2017 a success, and our congratulations Family Promise of Hawaii!
* We're joking about Bono and Van, but in all seriousness, John and Mary's mouthwatering Irish beef stew would be on their tour riders if they knew how tasty it was.